Le Heavy Weight Deflectometer (HWD) est devenu l'appareil de référence international pour la détermination de la portance des chaussées aéronautiques.
Les méthodes usuelles d'exploitation des données obtenues sont basées, pour les chaussées souples, sur l'utilisation de modèles élastiques multicouches statiques. Les limites de ces méthodes ont incité le STAC à développer une méthode avancée d'exploitation des résultats.
Ces travaux ont été réalisés dans le cadre d'une thèse confiée à Michaël BROUTIN, chef du programme Auscultation des chaussées au STAC, sous la direction de Michel FRÉMOND, du LCPC : « Assessment of flexible airfield pavements using Heavy Weight Deflectometers ; Development of a FEM dynamical time-domain analysis for the backcalculation of structural properties ». Michaël BROUTIN a soutenu sa thèse au LCPC à Paris le vendredi 11 juin 2010.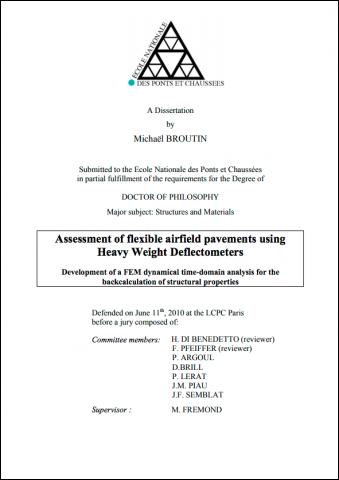 Auscultation des chaussées à l'aide du HWD

| | |
| --- | --- |
| Editor | |
| ISBN/ISSN | |
| Publication year | 2010 |
| Format | A4 |
| Pages number | 370 |
| Price printed version | Free |