In France, major airports are required to be equipped with an aircraft noise and flight track monitoring system, also known as a "monitoring system", which measures continuously 24 hours a day.
With more than 10 years of experience in this field, through expertise, comparative measurements and advice, STAC has written this note to help airport operators in the knowledge and management of their monitoring system.
It gathers a set of essential information such as regulatory obligations, recommendations and other technical information on these systems. The important points resulting from the feedback from the STAC acoustic measurement laboratory are also specified in order to help operators to optimise and guarantee the quality of the system.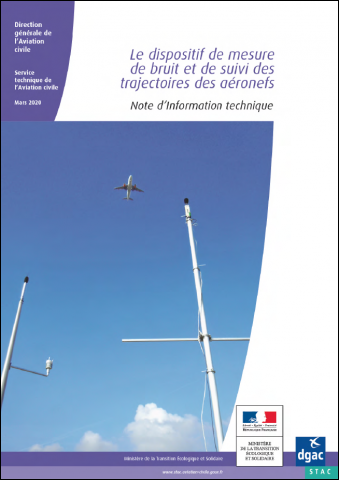 Aircraft noise and flight track monitoring systems

| | |
| --- | --- |
| Editor | STAC |
| ISBN/ISSN | |
| Publication year | 2020 |
| Format | A4 |
| Pages number | 24 |
| Price printed version | Free |